Information for Applicants
This page contains information for prospective applicants on IAS, TU Darmstadt and Darmstadt.
About IAS
The Intelligent Autonomous Systems Lab aims at endowing robots with the ability to learn new tasks and adapt their behavior to their environment. To accomplish this goal, IAS focuses on the intersection between Machine Learning, Robotics and Biomimetic Systems. Resulting research topics range from algorithm development in machine learning over robot grasping/manipulation and robot table tennis to biomimetic motor control/learning and brain-robot interfaces. Members of IAS have been highly successful, as exhibited by recent awards, which include a Daimler Benz Fellowship, a Best Cognitive Robotics Paper Award, the Georges Giralt Best 2013 Robotics PhD Thesis Award, an IEEE RAS Early Career Award, the INNS Young Investigator Award, etc. The lab collaborates with numerous universities in Germany, Europe, the USA and Japan. IAS is partner in several European projects with many top institutes in ML and Robotics.
The main IAS lab is located in the Robert Piloty Building in the beautiful Herrngarten park. It is less than fifty meters from a beer garden frequently used for lab meetings and after successful paper submissions.
IAS members maintain a presence at the Max Planck Institute for Intelligent Systems in Tuebingen and there will always be opportunities there as well.
About TU Darmstadt
The TU Darmstadt is one of the top technical universities in Germany, and is well known for its research and teaching. It was one of the first universities in the world to introduce programs in electrical engineering, and it is Germany's first fully autonomous university.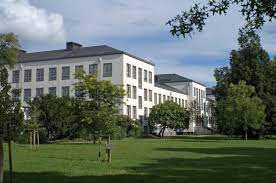 Four chemical elements were discovered at Darmstadt, most prominently, the element darmstadtium More information can be found here.
About Darmstadt
Darmstadt is well known high-tech center with important activities in space craft operations (e.g., through the European Space Operations Centre, the European Organization for Exploitation of Meteorological Satellites), chemistry, pharmacy, information technology, biotechnology, telecommunications and mechatronics, and consistently ranked among the top high-tech regions in Germany. Darmstadt's important centers for arts, music and theatre allow for versatile cultural activities, while the proximity of the Odenwald forest and the Rhine valley allows for many outdoor sports.
The 33,547 students of Darmstadt's three universities constitute a major part of Darmstadt's 140,000 inhabitants. Darmstadt's immigrant population is among the most diverse in Germany, such that the knowledge of German language is rarely ever needed (and many IAS members do not speak any German). Darmstadt is located close to the center of Europe. With just 17 Minutes driving distance to the Frankfurt airport (closer than Frankfurt itself), it is one of best connected cities in Europe. Most major European cities can be reached within less than 2.5h from Darmstadt.