Dorothea Koert
Quick Info
Research Interests
Human Robot Interaction, Learning from Demonstrations, Interactive Machine Learning, Robot Skill Data Base

Contact Information
Mail.Dorothea Koert
TU Darmstadt, FG IAS,
Hochschulstr. 10, 64289 Darmstadt
Office. Room E 327, Building S2|02
work(lab) +49-6151-16-25370
emailkoert(at)ias(dot)informatik(dot)tu-darmstadt(dot)de
Curriculum Vitae Publications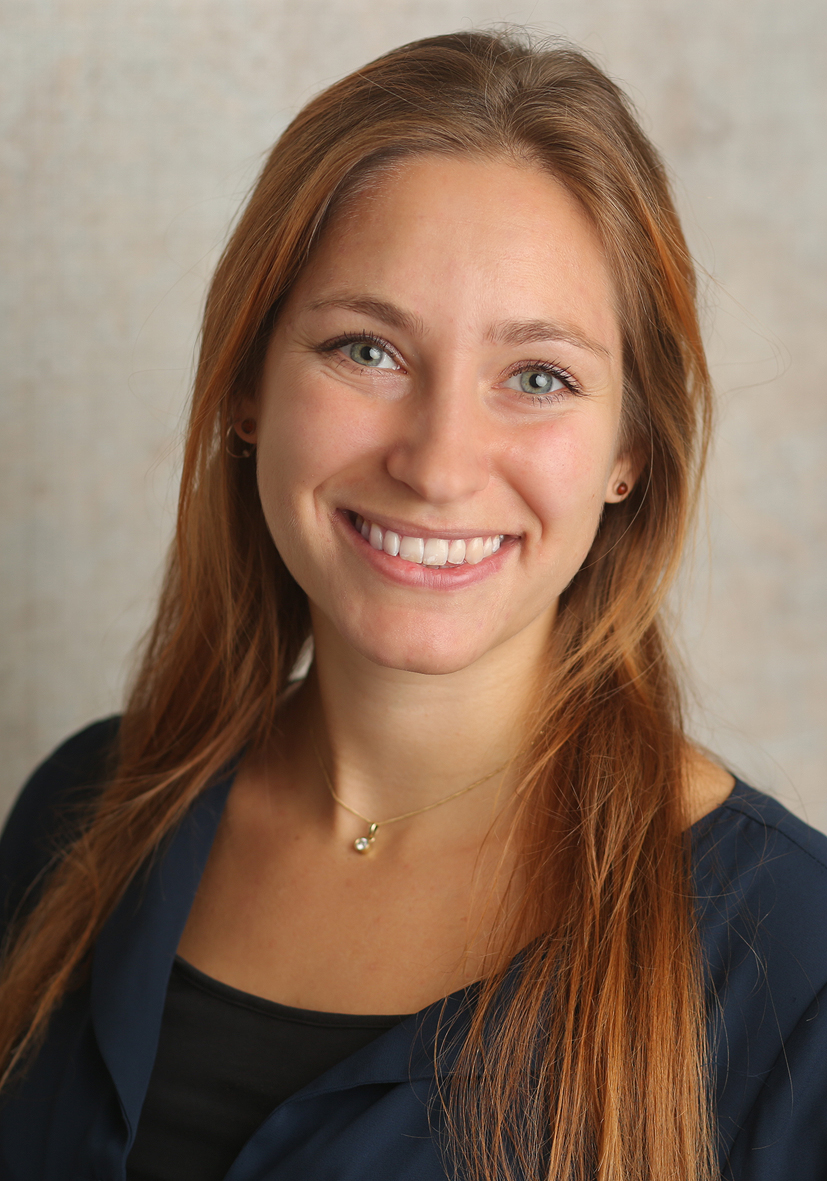 Dorothea Koert joined the Intelligent Autonomous Systems Group as a PhD student in June 2016. She has successfully defended her Ph.D. thesis "Interactive Machine Learning for Intelligent Assistive Robots" in February 2020 and is currently a Postdoctoral researcher at IAS.
From June 2016 until July 2018 she was working on the SKILLS4ROBOTS project which aims to acquire and improve a library of motor skills for humanoid robots.
Since July 2018 she is working on the KOBO project which aims to contribute to improving the social participation of elderly people and maintaining their independence with a humanoid service robot.
She is also responsible for the development of the Software structure of the aDDa project, which aims to build an autonomous car at TU-Darmstadt.
Before joining the Autonomous Systems Labs, Dorothea Koert received a Bachelor of Science degree in Computational Engineering (focus on mechanical engineering) and a Master of Science degree in Computational Engineering (focus on computational robotics) as well as a Master of Science degree in Autonomous Systems from the TU Darmstadt.
Between 2012 and 2016 she was a member of Team Hector, a robotics team with focus on Search and Rescue robotics, and participated in the RoboCup Rescue League as well as in the Darpa Robotics Challenge and the ARGOS challenge. During her master's her research interests focussed on Machine Learning and it's applications to robotics and her master's thesis entitled "Combining Human Demonstrations and Motion Planning for Movement Primitive Optimization" was written under supervision of Rudolf Lioutikov, Guilherme Maeda and Jan Peters.

Research Interest
Human Robot Interaction, Learning from Demonstrations, Interactive Machine Learning, Mixture Models
Key References
Videos
Online Learning of an Open-Ended Skill Library for Collaborative Tasks
Teaching
Teaching assistant for Projektkurs CE SoSe 2018
Teaching assistant for Statistical Machine Learning SoSe 2019
Supervision
Master Thesis , "Intuitive imitation learning for one-handed and bimanual tasks using ProMPs", Knaust, M. (2019)
Master Thesis, "Learning from Human Feedback: A Comparison of Interactive Reinforcement Learning Algorithms", Kircher, M. (2019)
Master Thesis, "Deep Robot Reinforcement Learning for Assisting a Human", Pal, S. (2019)
Master Thesis, "Probabilistic Motion and Intention Prediction for Autonomous Vehicles", Jukonyte, L. (2019)
Master Thesis, "Pedestrian Detection, Tracking and Intention Prediction in the Context of autonomous Driving", Hoffmann, D. (2019)
Master Thesis, "Multimodal Uncertainty Reduction for Intention Recognition in a Human-Robot Environment" Trick, S. (2018)
Master Thesis, "Comparison and Evaluation of Concepts for SLAM in the Context of Autonomous Driving", Bug,D (2018)
Master Thesis,"Interactive Planning Under Uncertainty', Hoelscher, J (2017)
Bachelor Thesis,"Comparison of Methods for Human Feedback as a Reward-Signal in Reinforcement Learning", Hellwig, J., (ongoing)
Bachelor Thesis,"Integration of LIDAR SLAM for an automous vehicle", Kirschner, M., (2020)
Bachelor Thesis, "Imitation Learning for Highlevel Robot behavior in the context of elderly assistance", Lang, M. (2019)
Bachelor Thesis, "Trajectory Based Upper Body Gesture Recognition for an Assistive Robot", Divo, F. (2019)
Bachelor Thesis, "Towards a Robot Skill Library Using Hierarchy, Composition and Adaptation", Kaiser, F. (2019)
Bachelor Thesis, "Collision Avoidance in Uncertain Environments for Autonomous Vehicles using POMDPs", Schotschneider, A (2018)
Bachelor Thesis. Development and Evaluation of 3D Autoencoders for Feature Extraction, Hesse, R. (2017)
Bachelor Thesis, "Matching Bundles of Axons Using Feature Graphs" Zecevic, M. (2017).
Bachelor Thesis, "Transferring Insights on Mental Training to Robot Motor Skill Learning", Szelag, S. (2017)
Bachelor Thesis, "Transferring Insights on Biological Sleep to Robot Motor Skill Learning", Rother, D (2017)
Integrated Project, "'Enhancing Attention Aware Movement Primitives'", Kruk, A., Zhang, Y. (ongoing)
Integrated Project , "'Simulation-based Haptic Feedback for Delayed Telerobotic Arm Operations'", Sztwiertnia, S. (2019)
Integrated Project , "'Development and Implementation of an Approach for Multi-Object Tracking in the Context of Autonomous Driving'", Pinto, T (2019)
Integrated Project, "Learning Perceptual ProMPs for Catching Balls" Herrmann, L., Patzwahl, A., (2018)
Integrated Project, "S-PILCO: An Effort of Developing a Safe Reinforcement Learning Method based on PILCO", Zecevic, M. (2019)
Integrated Project, "'Incremental Learning of Collaborative Tasks with Interaction Primitives'", Trick,S, Knaust, M, Burkhardt, M (2018)
Integrated Project, "Analysis of dynamic task control in robot-juggling" Sabic,E. Wölker, A. (2016)
Seminar Thesis, "Integration of a Path-Planner for the aDDa Projekt" Kinold, J (ongoing)
Seminar Thesis, "Learning Human Intentions from Motion Data" Schotschneider, A (2019)
Seminar Thesis, "Bio-inspired Components for long-term learning of internal models for robot motor skills" Rother, D (2019)
Bachelor Projektpraktikum "Gestensteuerung bei der Fahrzeugführung einer Automatisierten Mercedes S-Klasse" Andres, M; Vincenti, A.; Gabel, L.; Fruehwein, K.; Schramm, M. (ongoing)
Bachelor Projektpraktikum "Entwicklung einer RGB-D Kamera basierten Gestenerkennung für einen Assistenz-Roboter" Gröschl, M , Kohaut,S. , Lang M., Divo, F. (2018)
Bachelor Projektpraktikum "Entwicklung eines Tools zur Visualisierung und zum Logging von Fahrzeugdaten einer Mercedes S-Klasse", Kirschner, M.; Wöltche, D.; Floß N.; Bode, C.(2018)
Bachelor Projektpraktikum "Entwicklung einer Graphischen Benutzeroberflaeche zur Robotersteuerung" Dziarski, L. ; Horn, A.; Kaiser, F.; Nottebaum, M.; Wittelsbach, B. (2017)
Bachelor Projektpraktikum "Entwicklung einer Datenbank zur Objekterkennung mit einer RGBD-Kamera", Hannun, B., Kosterhon, F., Zecevic, M. und Hesse, R. (2016)